PRAGUE BEHIND THE SCENES TOUR "LIGHT VERSION"
3h private tour
DURATION: 3H 
TYPE OF A TOUR: PRIVATE, OFF THE BEATEN PATH
PRICE: 900 CZK / PERSON 
PRICE FOR SOLO TRAVELER: 1800 CZK
START TIME: FLEXIBLE / OR ACCORDING TO MY AVAILABILITY
DIFFICULTY: LIGHT – MEDIUM
LENGTH: cca 4 MILES / 6 KM (WE WILL ALSO TAKE A TRAM)
MEETING POINT: NÁMĚSTÍ REPUBLIKY, PRAGUE 1
END OF THE TOUR: AT PRAGUE CASTLE (ON THE THIRD COURTYARD)
RESERVATION: dana@praguebehindthescenes.com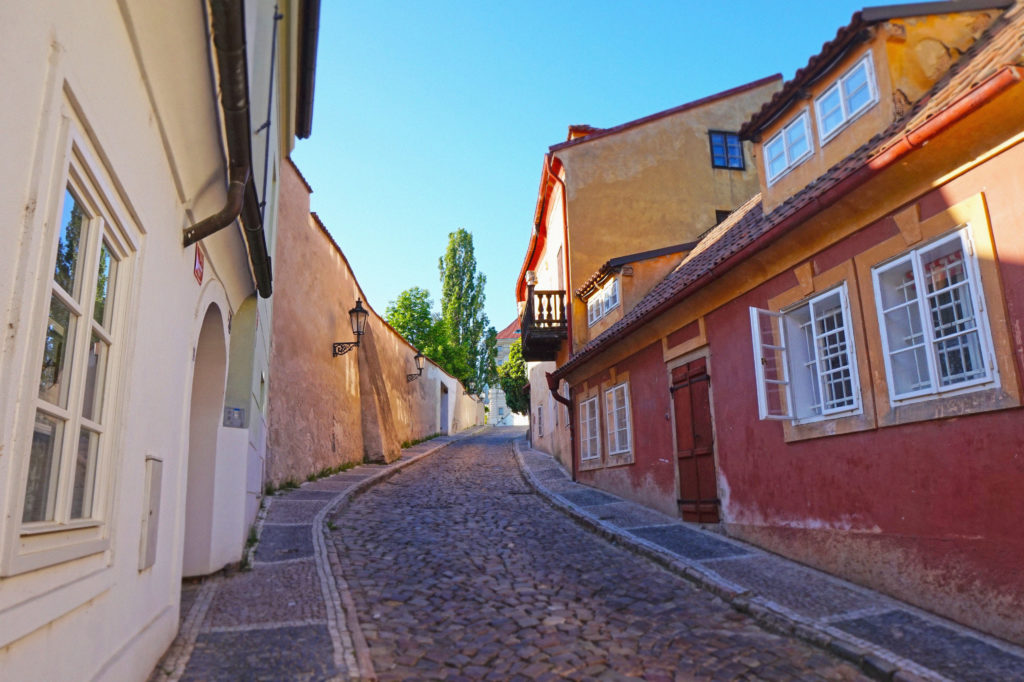 This 3-hours Prague off the beaten path tour is based on my most popular tour called Prague Behind the Scenes 4,5h tour. Combination of major Prague sights and many local hidden gems (very good introduction tour). This "light version" of the tour is just shorter and less demanding than the original one because during the tour we will also use public tranport – tram ticket is included in the price.
Of course, this "light tour" is still a bit of excercise (almost 4 miles walking), however no uphill parts, no walking up the stairs. Just flat or downthill.
This "light tour" is also perfect option for hot summers and winters when you don´t want to spend too much time outside but still want to learn a lot about Prague. 
This tour is designed as private with flexible starting times.
LESS PEOPLE
Yes!!! You will definitely see less people on this Prague off the beaten path tour. I always try to design my tours in a less touristy way and take my clients away from the large, noisy tour groups (if possible). I endorse respectful tourism and try to offer alternative to the run-of-the-mill tours. If you would like to support small local business and learn about Prague in more relaxed and personal way, you are more than welcome on my tours!
MAIN PRAGUE SIGHTS
On this tour you will see many of the major Prague sights: Charles bridge (we will not cross it, you will see it from very special perspective and without being surrounded by thousands of tourists) • Kampa island • Powder Tower • Municipal House • Metronome • Rudolfinum • Loreta • Prague Castle (1st, 2nd, 3rd courtyard) • St. Vitus Cathedral.
HIDDEN GEMS
I will also show you many of the local hidden gems (my speciality): New World, the most picturesque quarter in Prague with cannonballs in house walls • Workshop where stained glass windows  for St. Vitus Cathedral were made (from outside) • Amazing echo stairs at Prague Castle • The smallest house in Prague •  Quiet back alleyes of Old Town and Lesser Town…and many other little details while walking off the beaten path.
TRAM RIDE
Our last stop on the tour will be Prague Castle which is on a hill. But no worries, our public transport will help us now. We will hop on a regular Prague tram and enjoy ten minutes easy ride – no walk uphill! This will save us lot of energy. Tram ticket is included in the price.
WHAT IS INCLUDED IN THE PRICE 
Each tour will be guided by me, Dana. Local fully certified guide born and raised in Prague ✔
3 hours private tour – your tour will not be shared with any other people. Only you and your group (max. 8 people, please) ✔
Free WiFi – on each tour you can use free internet, I always have a special portable WiFi router with me ✔
Public transport ticket for each participant ✔
Original present at the end of the tour ✔
Special e-guide book with recommendations on where to enjoy some great local food, beer, what are the biggest tourist traps, what to bring back home as a nice souvenir, where to exchange money, how the tipping works here, etc…This guide book was written by me and I will send it to you via email ✔
OTHER PRACTICAL INFORMATION
To book this 3h private tour, please drop me a line at dana@praguebehindthescenes.com 
This tour starts at Náměstí Republiky, Prague 1 (where we will meet) and ends at Prague Castle. The tour is not a return tour. But no worries, it´s very easy to get back from Prague Castle. After we finish I will help you with directions, or will take you to the nearest tram stop, call you a taxi or if you wish you can stay at Prague Castle longer and explore it even more. 
This tour is easy to walk but still requires a bit of physical activity therefore it´s not suitable for people with walking problems or very small children. Due to cobble stones I wouldn´t recommend taking a pram. 
You can pay cash after the end of the tour in CZK, USD or EUR.